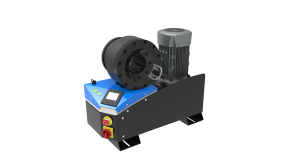 Techmaflex is always on the lookout for ways to improve both the efficiency and the quality of new and existing production operations. With this in mind we have reassessed our benchtop crimpers offering.
As a market leader in assembly machines, we wanted to offer a new range to improve our customers' productivity when assembling hoses.
This range comprises of:
• S CRIMP 137 EVO
• S CRIMP 240 EVO
• S CRIMP 350 EVO
• S CRIMP 420 EVO
These machines combine the robustness required for harsh environments with the reliability needed for busy workshops. Each machine is highly adaptable with various options available allowing users to customise their machine according to their specific needs.
The new range also features 3 types of controlers:
• SC panel – Smart Control panel. Daily counter. Semi-automatic opening.
• SCE – Electronic micrometer with the ability to save up to 25 configurations
• SCS – Safe Crimp System